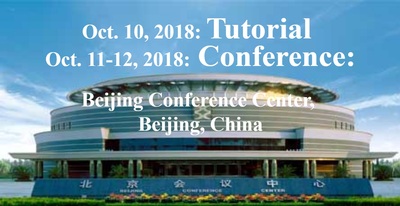 名称:Advanced Metallization Conference 2018 (ADMETAPlus 2018)
时间:Oct. 11-12, 2018
地点:Beijing, China
会议介绍:Advanced Metal Conference 2018: 28th Asian Session (ADMETAplus 2018) will be hold from October 10th in China for the first time and in conjunction with the 3rd International Workshop "Materials for Advanced Interconnects and Packaging" (MAIP).
The ADMETAPlus is heading for its 28th historical meeting, which is organized to stimulate and enhance the researcher and development of ULSI interconnect technology since 1989, and has a long record of important contributions to practical progress for advanced MPU and various memory devices. In recent years, the importance of interconnect technology for realizing low resistance, large integration, rich functionality, low cost, and high reliability has increased in various device application fields beyond silicon electronics. This conference will focus on interconnect technology and science related to materials, processes, device design, assembly, equipment, cost performance, and characterization. We will host comprehensive discussions on a wide range of topics, from basics to applications, with researchers and engineers from industry, government, and academia. We are looking forward to new developments in interconnect technology fields and contributing to the growth of the semiconductor industry in the Asian area. Now is the time for you to join us.
Topics:
• Low-k Dielectric: CVD, ALD, SOD, Film Properties, Interface Control, New Materials, Dielectric Structures (Air Gap), Selective Deposition as New Patterning Strategy, Surface Confined Activation of Low-k Materials, Metrology, etc.
• Metallization: PVD, CVD, ALD, Plating, Barrier Metal, Seed and Nucleation Layer, Supercritical Fluid, Reflow
• CMP: Planarization Technology, Slurry, Pad, Dress, End Point Detection, Cleaning, Anti-corrosive Technology, etc.
• Integration: Interconnection Structure and Performance, Parasitic Capacitance, Reliability Technology, Testing and Analysis, Alterative Integration Approach based on Subtractive Approach, etc.
• Reliability Science and Failure Analysis: EM, SIV, TDDB, Defect Detection and Analysis, Failure Mechanism and Modeling.
• Contact: Silicide, Interface, Solid Phase Reaction, Shallow Junction, Crystal Properties, Carrier Transport, Parasitic Resistance, Nanocontact etc.
• MEMS/RF: Interconnection Structure and Materials, Packaging, Fabrication Process Technology, Device Design, etc.
• Emerging Technology: Active Wiring, Power Electronics, Silicon Photonics, Flexible Electronics, Energy Harvesting, etc.
• Backend Device Technology: Technology for Embedding Devices (MRAM, PCRAM, ReRAM, DRAM, etc.), Materials and Processing of Magnetics, Phase-Change and Resistive-Change Devices, Electrodes, Metallization, etc.
• Nanocarbon: Graphene, Carbon Nanotubes, Deposition, Integration, Electrical Characteristics, Reliability, Evaluation, Analysis, etc.
• 3D and Packaging: TSV, TMV, Stacking Method (CoW, WoW), Thinning, Planarization, Bonding, Bump, Stress and Thermal Analysis, Sealing, Cooling, Reliability etc.
• Modeling and Simulation: Advanced Metallization and IC Thermal Management.